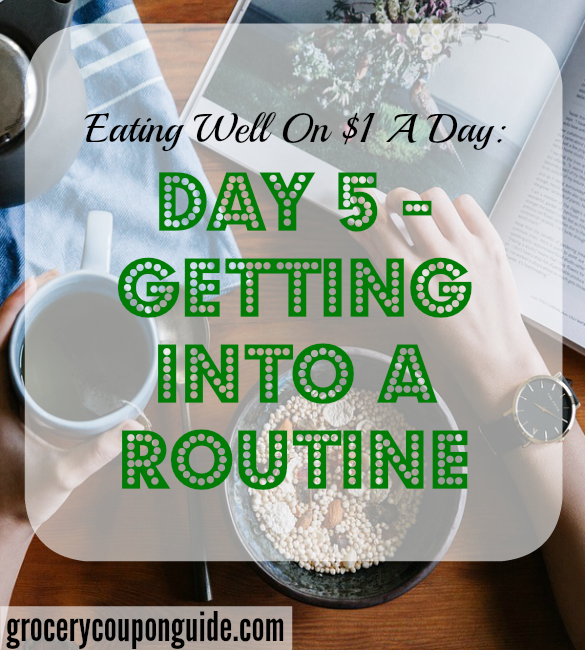 Now that I have to take antibiotics for the next 10 days and there are restrictions on the foods I can ingest when taking them, I decided that I would start my mornings off with one package of the instant oatmeal that I have. I'm not a big fan of plain oatmeal, so I added about a quarter of a banana to give it some flavor and ate that before my morning walk. I think this will be the plan while I have to take these. Once I get back from my walk, it gives me about an hour to work before the 2 hour time period is up when I can eat dairy and minerals that aren't allowed to mix with the antibiotics in my full breakfast.
***************************************
This is part of a month-long challenge to eat well while spending an average of only $1 a day on food. You can find the beginning and the rules of this challenge here
***************************************
I decided to have an egg and Corn Flakes with a quarter of an apple on top (and another quarter to eat on the side). Not having cooking oil (I'm going to use that as the excuse to cover up my lack of cooking skills a lot I have a feeling) meant that the egg got pretty mangled, but was perfectly edible (
I didn't end up in the emergency room again
)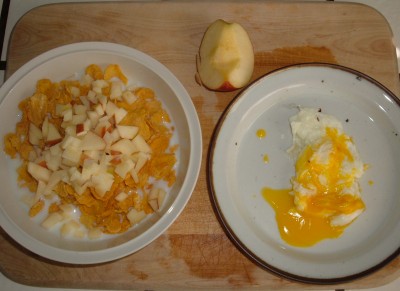 I only had 1/4 of a banana left and since I really like bananas, I wanted to get some more, so I headed to the store. I ended up getting bananas, black beans and a large jar of salsa. While the bananas and salsa were definitely not essentials, my view is that "eating well" on a $1 a day also means that I get to eat the foods that I like. Bananas are great for adding flavor to the morning oatmeal and salsa will spice up a lot of the meals that I have in the future.
I ended up spending $2.34 for the three foods, and while this was a bit more than I wanted to spend, it could have been worse. I had a $0.75 off 1 coupon for pace salsa which I can't remember where I got (I think it may have been a random magazine I was looking through and I had saved the coupon because I do like Mexican food). I also had a $1 off 1 Safeway brand product which I had received as a Catalina (the coupons from the cash register) and knew that both of those would work fine. The question was would the $1 off produce coupon that I had (found in a Safeway coupon book in the lunch meat section last month) work since it said there was supposed to be a minimum purchase. If the coupon didn't scan, then I would have had to pay full price for the bananas — luckily it did without a hitch saving me an extra dollar.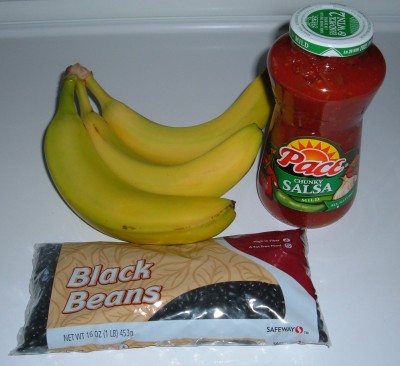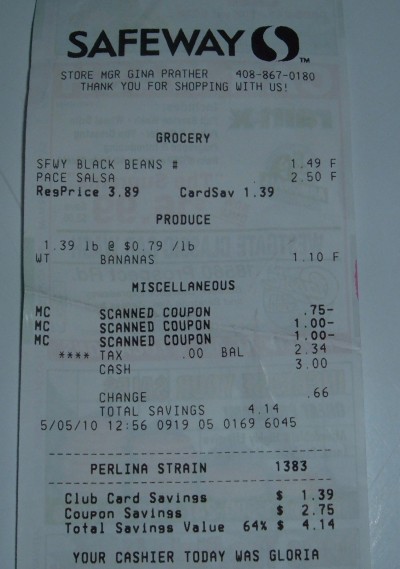 For lunch, I had a peanut butter and banana tortilla using the last 1/4 of the banana I had from my first purchase. The avocado half that I still had was on the brink of going bad (and when you are eating on $1 a day, you really don't want to throw out any of the food you have if you don't have to). I paired that up with the salsa I had just purchased. I then took out the leftover steamed carrots from the fridge and added a handful of Wheat Thins to complete the meal: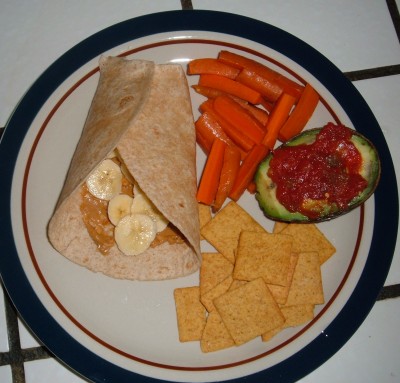 I did get hungry during the late afternoon and made my first snack outside the main three meals of the day. I grabbed another handful of Wheat thins and ate them with one of the single servings from the cream cheese minis: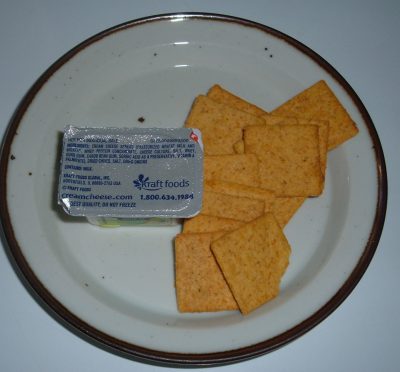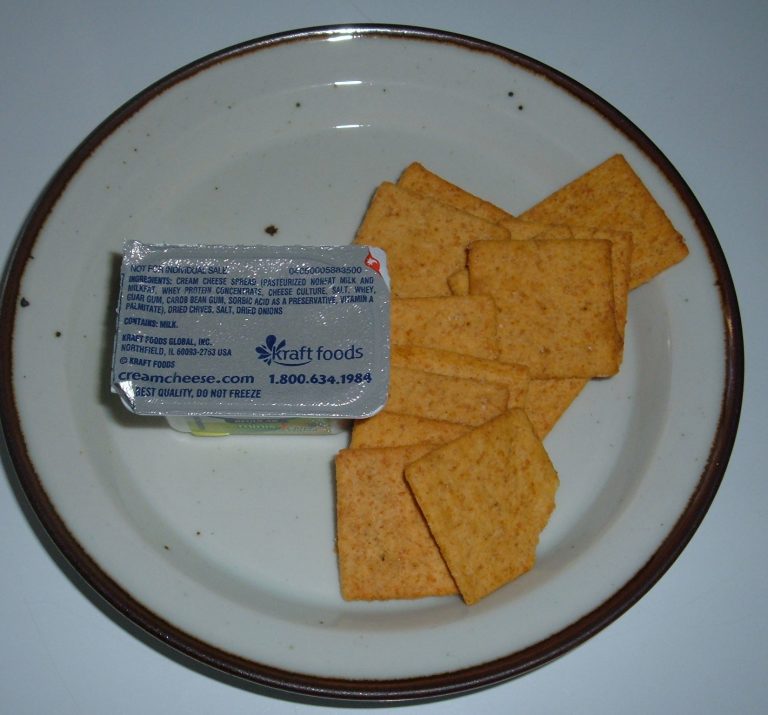 For dinner, I had brown rice, black bean, avocado and salsa burritos (they were many magnitudes better than my
Pork & Bean burritos
). I had no idea how to cook black beans and had to look it up on the Internet. Luckily I did it early enough to know I needed to soak the beans for 6+ hours. In the end, they came out just a touch on the firm side, but still a much better choice than the previous bean experience: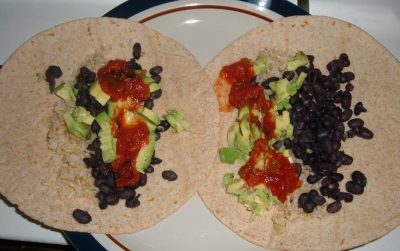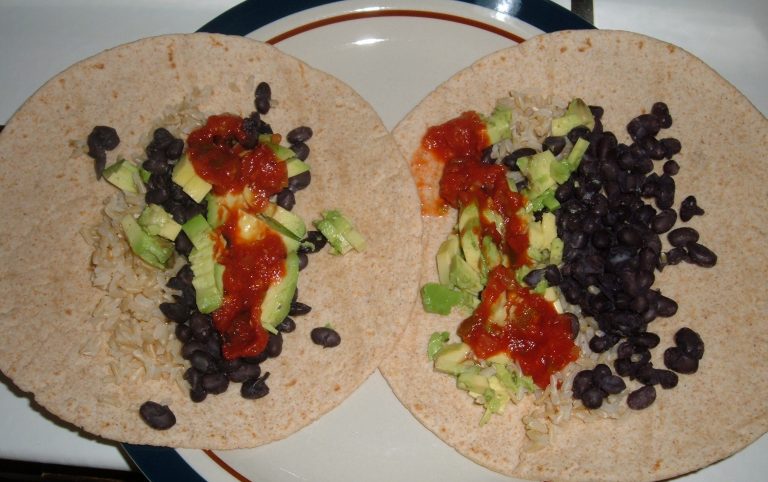 I'm going to try and make this last until the weekend before buying anything else. The one thing that I am very happy about thus far is that I have not been hungry at all thus far. The one thing that I find that brings on a bit of stress is anticipating what, if any, deals will be available the next week. With limited inventory, a single bad week of grocery store sales could really cause a major problem for me and I have been thinking about the future week a lot more than I thought I ever would.
This is the current list of what I have purchased:
Money Spent $9.71
Money left to spend: 21.29
Retail Value of everything bought: $263.24
1 jar of salsa
1 bag of black beans
1 half gallon of milk
4 boxes of Corn Flakes
1 dozen eggs
2 avocados
5 bananas
2 boxes of Quaker Instant oatmeal
14 packs of Philadelphia Cream Cheese Minis
1 package of Knudsen Light sour cream
10 apples
2 lbs of carrots
4 boxes (small) of Wheat Thins
1 jar of Skippy All Natural peanut butter
2 cans of pork and beans
1 bag of long grain brown rice
2 packages of Mission 100% whole wheat tortillas (10 counts each)
Donated Food to Food Bank that was purchased with my $1 a day
4 boxes of cereal
50 packs of Philadelphia Cream Cheese Minis
4 boxes (small) of Wheat Thins
1 Scrubbing Bubbles Extend-A-Clean bathroom cleaner
1 Scrubbing Bubbles Extend-A-Clean bathroom cleaner refill
************************
The Beginning
:::
Day 6: Sugar Withdrawals
************************
Rebate Fanatic. Saving you money every time you shop online!
Sign Up and Start Saving Today