One of the things I hear people complain the most about is that there are never any coupons for organic food. They do exist, but it is still more difficult to find them than other coupons. I have 15 coupon organic coupon booklets to give away.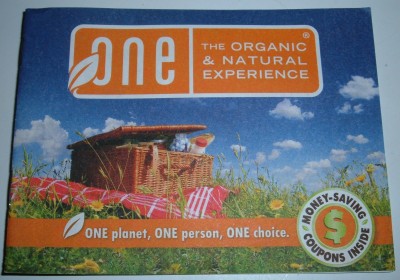 The coupon booklet contains the following coupons (all coupons expire 12/31/2010) :
$1.00 off 1 any All Natural Alexia product
$1.00 off 1 any Mary's Gone Crackers product
$1.00 off 1 any box of Numi Organic Tea
$0.75 off 1 any R.W. Knudsen Family Product
$0.75 off 1 any Santa Cruz Organic Product
$1.00 off 1 any Seeds of Change Product
$0.50 off 1 roll of Bravo Paper Towels
$1.00 off 1 any So Delicious Coconut Milk Beverage
There are three ways to enter:
1. Leave a comment on this post
2. Like and leave a comment on facebook on the entry about this post
3. Follow me on twitter and tweet this giveaway with a link to this post (be sure to include @1millionmeals)
I will be giving away 5 booklets for each of the three ways you can enter (15 in total). I will create 5 random numbers from all the entries for each of the three ways to enter Wednesday August 4th at 11:59 PM PST. Please feel free to ask any questions and good luck.
Rebate Fanatic. Saving you money every time you shop online!
Sign Up and Start Saving Today