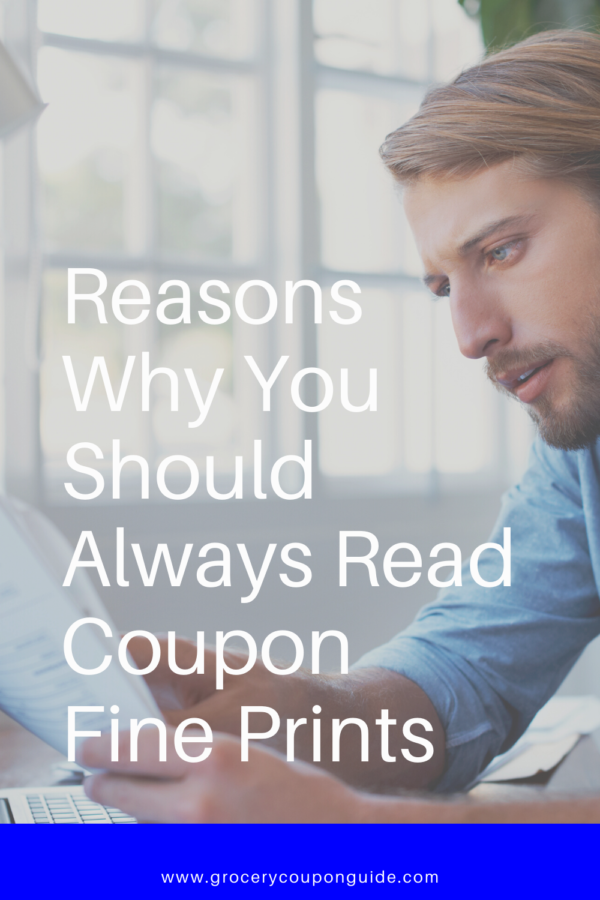 There's a lot to working with coupons. You must organize your shopping trip, starting with your list and what you are going to purchase. You must clip your coupons and organize them so they are easy to recall. Also, you have to be focused, so you pick up the correct items. Most people forget that you also need to read coupon fine prints. Follow along for why reading the fine print is the most important aspect of your shopping trip.

What Information is Contained in the Fine Print
The fine print contains everything you need to know for the item you are purchasing to include:
The product: The coupon list what product or products it can be used on. It tells you the exact name of the item and the product size restrictions. 

Uses: It tells you how many times the coupon, or like coupons, can be used. Specifically, it notes your limits like a limit of two or four like coupons. 

Transaction Limits: The fine print also lists if the use limits are per transaction, product, or daily. It can also limit to only one person, per household, per day. 

The Law: the last section of the fine print relates to laws on selling, copying, or using the coupon unlawfully. 
Consequences of not Reading Coupon Fine Prints
If you do not read the fine print, your transaction will be more than you wanted. The most common thing that happens when you miss the details is you get the wrong product or the wrong size. When the product or size does not match up, the coupon will not attach. This means you will not be able to apply the savings to your purchase. Another common mistake is not taking note of coupon limits. If you have more items and coupons than the limit allows, your coupons will not go through. To avoid those problems, make sure you utilize cashback offers and digital coupons. You can also have the cashier take off the additional items.
Couponing is almost an exact science. You have to be organized and think on your feet. You also must read coupon fine prints to ensure your grocery bill is where you want it.
Rebate Fanatic. Saving you money every time you shop online!
Sign Up and Start Saving Today