We have often discussed cash back opportunities in Grocery Coupon Guide. Aside from coupons, it is also one of the easiest ways to save money when grocery shopping online. Everyone should take advantage of cash back opportunities. Everytime you save, you can put that money towards other things.
While there are many ways to get cash back and rebates, I have a new one for you to try. Have you ever heard of Rebate Fanatic? It's a newer and up-and-coming cash-back site. It hasn't been covered much on the web, so I am including a review of it here.
Sign-Up Process
The sign-up process for Rebate Fanatic was super simple. The sign-up window pops up as soon as you navigate to the website. It shows the basic information about the cash back site offerings, such as up to 40 percent cash back, member-only deals, and the number of retailers it provides rebates.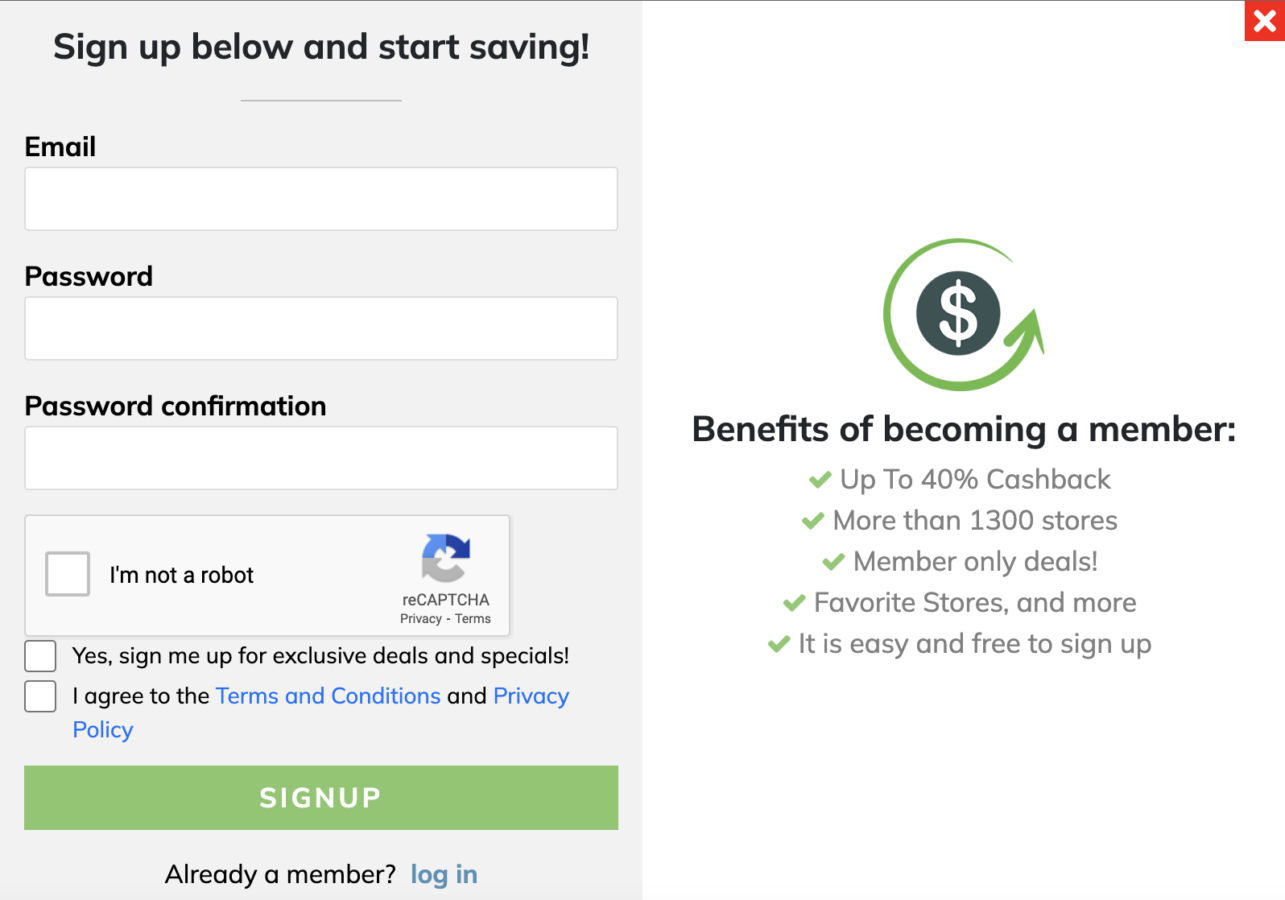 To sign up, just enter your email and password and go through a simple image verification. Once finished, check your email for the verification message, and you're done. The whole process took me less than a minute, and it was free!
Cash Back Offers
I was excited to see which stores Rebate Fanatic is partnered with. With over 1300+ retailers, Home Depot and Michaels were among my favorites. I love crafting and doing small home makeover projects. It's usually hard to find good deals at these stores, and I love that Rebate Fanatic is helping solve that problem.
Looking through the offers, there were a few high-valued ones. Stores such as Surfshark and Tripadvisor had offers of 30 percent cash back or more. However, such offers were limited. When looking at the average cash back rates, I thought they were comparable or higher to similar competitors. However, they were not the highest on the market.
When it came time to look for the best cash back offers, I found it challenging to locate them within the deal section. Going through each page of search results is certainly not ideal for someone looking for quick access to high-valued offers.
Instead, I found sticking to the home page would yield results faster. A great addition to the site would be adding a filter feature that allows you to exclusively sort offers from highest to lowest. With such an addition, it could become a favorite site of many users.
Aside from that, I also found some confusing offers. For instance, stores such as Pittman and Davis had a cash back offer of 2.25 percent or $0. I had questions about whether I was truly earning anything or not. Offers such as those need to be better clarified for the end user.
When I see $0 on an offer, I tend to shy away from it — thinking I may not earn any money back. Adding coupon disclaimers or additional information could clarify what exactly that means. That will alleviate fear and give users the confidence to try out those deals.
Using the Site
The site design was sleek and user-friendly. The home page had limited information, which was a positive for me. Without the clutter, I was easily able to identify the top deals on the site. The featured deal at the time of writing was 6 percent cash back at Home Depot. The featured retailer was Priceline, with a 2.10 percent cash back offer.
Further down the page, you gained access to the most popular deals and trending retailers. That was another pro for me. I did not have to use the search feature to find individual stores or the highest-valued cash back offers. They were all on the home page, ready for me to view. I found navigation to other sections of the site easily as well.
After looking at the featured deals, I was ready to try to redeem one. I chose an offer from Michaels. Once I clicked the 1.5 percent cash back offer, I was redirected to the prospective website. I will note there was no information on what was included or excluded from the deal on Rebate Fanatic.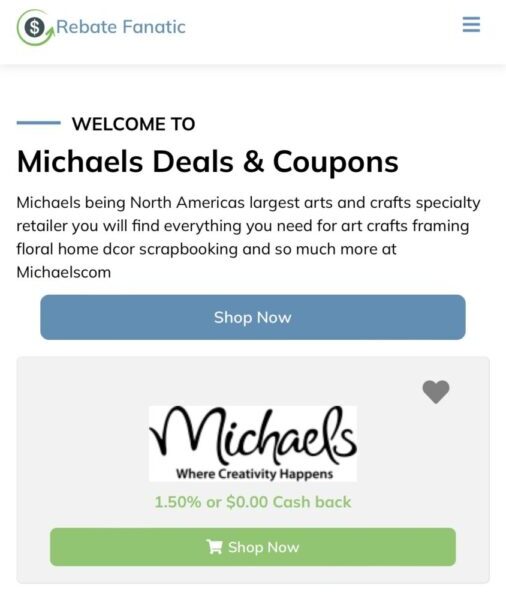 Since Halloween is right around the corner and I love crafts, I picked a Halloween door craft to purchase. I did not use any discounts on the site since doing so could void the offer.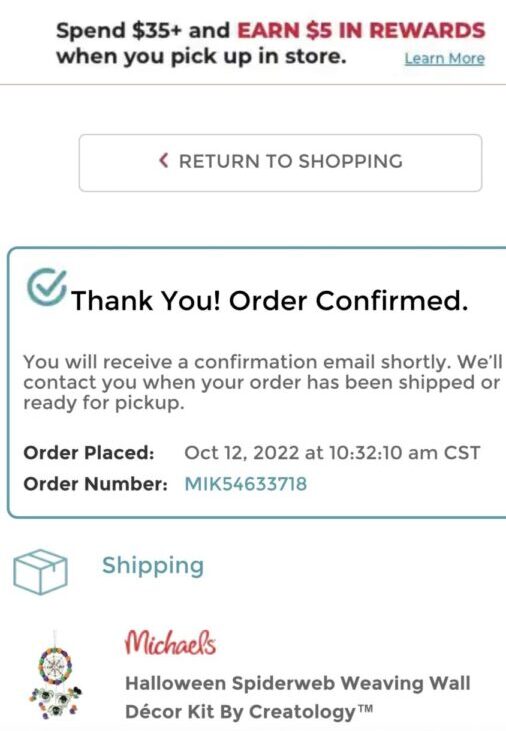 Once I made the purchase, I navigated back to Rebate Fanatic to look at my Dashboard. From there, I could see that my purchase had been tracked. I am now awaiting my cashback to go through and post for payment.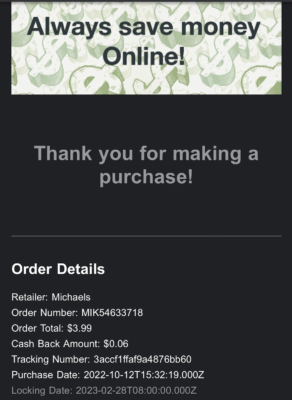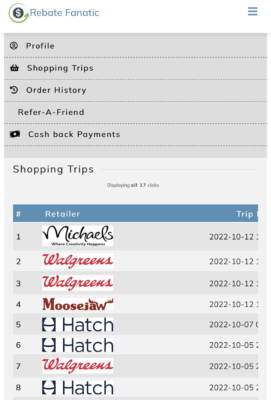 Refer-A-Friend Program
Rebate Fanatic has a referral program. It's a great way to earn additional cashback on your purchases. For every friend that gets referred, you receive $5, and they do too. To participate in the program, you need to share your promotional link with your friends via text, email, social media posts, etc. When they use your code and earn $5 in cashback, you will earn your $5 reward. As a way to offer customers long-term benefits, there is no cap on referral earnings.
Last Thoughts
I thought that Retail Fantic was very user-friendly. It did a great job of making the home page simple and making the top deals accessible from there. Many of the cashback offers were comparable to competitors on the market, even though they were not the highest.
I liked that the sign-up process took less than a minute and that there were deals from my favorite retailers available. The potential of earning unlimited referral rewards was very notable. Also, redeeming offers was straightforward, though coupon exclusions and details were missing on some of them. My clicks were successfully tracked and are now awaiting payment.
Rebate Fanatic Banner Ad by Em Rodriguez
Read More:
Places To Buy Snack Food On A Budget
What Happens to Unused Cashback Accounts?
Sign Up and Start Saving Today