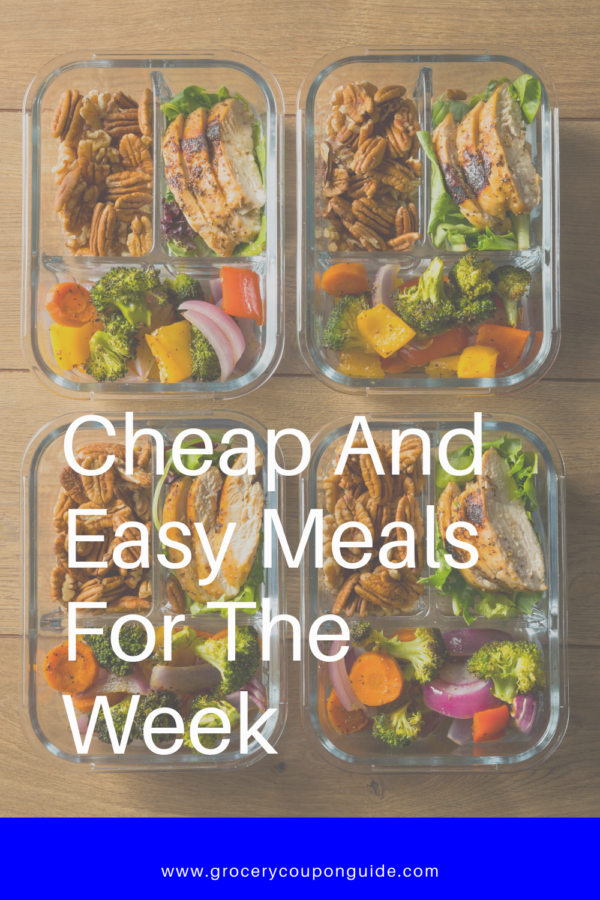 This week I wanted to create some cheap and easy meals. Im on a health kick and have been for a month. That means getting creative and crafting several low-calorie dishes. With being health conscious, it can come with a high cost, but it doesn't have to. Here are some of the cheap and easy meals for thie week. Get ready to be meal-inspired. Have your coupons ready!

Dinner Dishes
I usually start the week off by preparing three dinner meals. I always eat out with clients twice a week, which accounts for the three days of dishes. After piling my ingredients from the store, I made spicy crab salad, salmon burgers with veggies, and spicy chorizo with veggies. The spicy crab contains imitation crab meat as a substitute for the real thing. I paired it with Tuscan kale I purchased for under $2.50 at Misfit Market and a bag of mini-colored papers from Aldis. The whole meal costs under $10 and serves two.
I also made Salmon burgers, which I got from Fresh Market. For a cheaper alternative, try Kroger or Walmart. I paired that with 1lb of parmesan garlic green beans from Misfit Market for $3.08. The dinner costs $13 and serves 4. For the last dish, I prepared spicy chorizo for $5 with asparagus for under $3 at Walmart. The meal costs under $8 and serves 4. 
Lunch Ideas
I got lucky this week on lunch. For two days at work, lunch has been provided, meaning just three meals to prep for me. I started the week off with jackfruit bbq sandwiches and Lays potato chips. The bbq did not sit right with me, and the jack fruit was costly. You will have to do some comparison shopping and watch out for coupons to get this meal at a better deal. This meal cost around $15 for two servings.
I am also creating a stuffed poblano pepper for lunch this week. While I got my peppers at the Fresh Market, you can find them for under $1 each at places like Walmart and Kroger. I am stuffing it with vegan cheese and rice, which I already have on hand and spicy chorizo sausage for $5. This meal should feed 2-4 people for around $15-$20, depending on which ingredients you already have on hand. 
Coupon Ideas
Most of these grocery items you can find cheap by comparison shopping. I usually look online and find out which of my favorite stores have the best price on the products. Afterward, I look up coupons via Coupons.com, the store's website, and my cashback apps. If I'm lucky, I'll get some additional savings on my cheap meals for the week.
What are you cooking?
Read More
Best Groceries To Buy on Vacation
How To Save On The Cost Of Chicken
Ways To Save When Food Costs Rise
Rebate Fanatic. Saving you money every time you shop online!
Sign Up and Start Saving Today