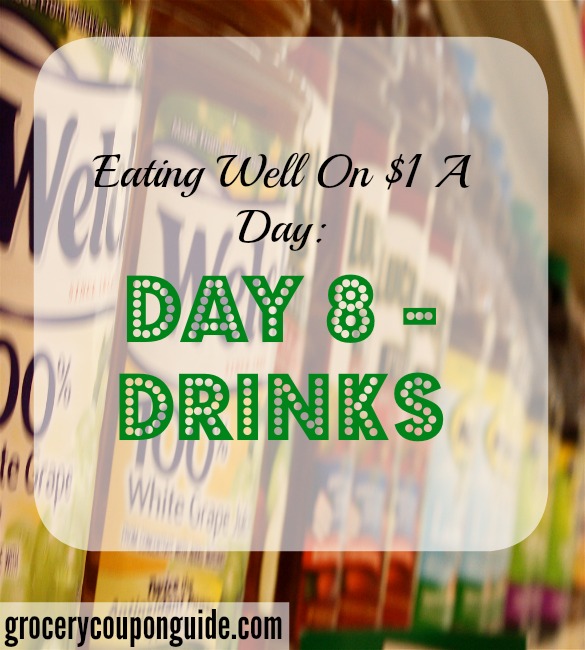 While I was planning not to buy anything else until after the weekend, I figured out a deal that made sense to get. One of the things that have been difficult with this challenge is that all I have been drinking this first week is water (this may not be a totally bad thing). I used to drink quite a bit of tea and juice, but there just haven't been any reasonable deals (at least when the budget is $1 a day) for these this first week. Then I was able to put together the following deal:
***************************************
This is part of a month-long challenge to eat well while spending an average of only $1 a day on food. You can find the beginning and the rules of this challenge here
***************************************
Safeway is currently running a mix and match deal where when 5 items are purchased, you get $5 off which includes some fruit juices and V8 vegetable juices. This is the deal I put together: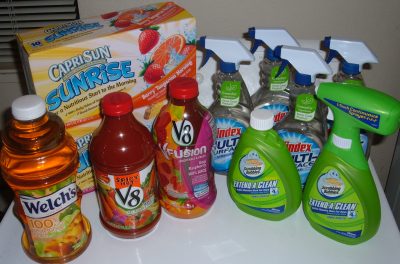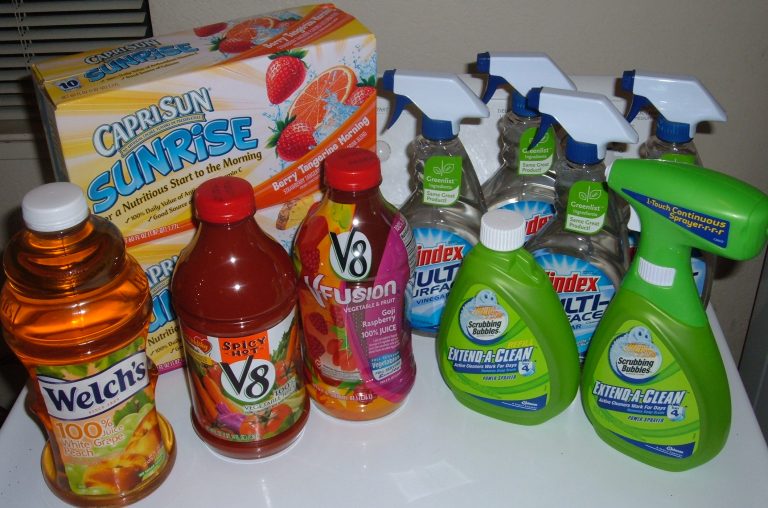 Buy One Welch's Grape Juice: $1.99 each
Use a $1 off 1 Welch's Grape Juice coupon at coupons.com
Go to Safeway.com and load a $1 off 1 Welch's Grape Juice coupon onto your Safeway card.
Safeway allows you to use eCoupons and physical coupons together. Using both of these, the Welch's Grape Juice is free.
Buy Two V8 Fusion Juices: $1.99 each
Use two $1 off 1 V8 Fusion Juice coupon at Campbell's Kitchen (you should be able to print it twice – if not, you can also print one at tryV8)
This makes each of these $0.99 or $1.98 for the two.
Buy Two Capri Sun Sunrise: $1.49 each
Use two $1 of 1 Capri Sun Sunrise coupon found in 4/25 SmartSource Sunday newspaper insert (the challenge rules say I can use 2 inserts from each week)
This makes each of these $0.49 cents or $0.98 for the two. Adding all five of these together puts the price at $2.96. Two bring down this total, I also purchased 2 moneymakers (you can do this without the moneymakers which get a bit complicated and pay just $3 for all that).
The first was the Scrubbing Bubbles Extend-A-Clean bathroom cleaner and refill which I had already done one on the first day. The Scrubbing Bubbles Extend A Cleaner bathroom cleaner was on sale for $6.99 and there was a $5.00 off 1 coupon for Scrubbing Bubbles Power Sprayer Starter from 4/11 SmartSource Sunday newspaper insert. I also used a Free Scrubbing Bubbles Extend-a-clean refill, when you buy starter coupon (go to the bottom of the page and the deal will scroll by) which made the refill free. This meant that I paid $1.99 + tax for the two, but I received a $3.00 Catalina (the coupons that come out with your receipt) and a $1.00 Catalina (I used $4 in Catalinas I had already which made things come out even – used $4 in Catalinas and got $4 back in Catalinas)
I did a similar money maker with Windex Multi-Surface cleaner. They are on sale for $1.99 each when you buy 3 or more at Safeway. There were $1 off 1 Windex Multi-Surface cleaner coupons in the 4/11 SmartSource newspaper insert (there is also one in today's (5/9) SmartSource newspaper insert). You can also print the $1 off 1 Windex Multi-Surface cleaner from coupons.com. Then I loaded this coupon onto my Safeway card as well at Safeway.com. So when I paid for the 4 Windex Multi-Surface cleaners, I used 4 coupons bringing the price down to $0.99 each. This product has a Catalina coupon printing for $2 off when you buy two. This makes them free, but the eCoupon on the Safeway card means that I get an extra dollar off so that it is a slight money maker after tax. (Again, I used $4 in Catalinas I had already which made things come out even – used $4 in Catalinas and got $4 back in Catalinas)
When all was said an done, I had purchased all of this for $0.71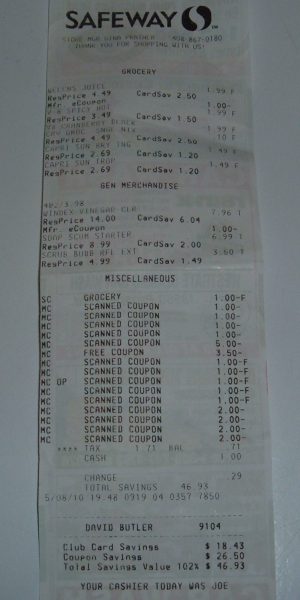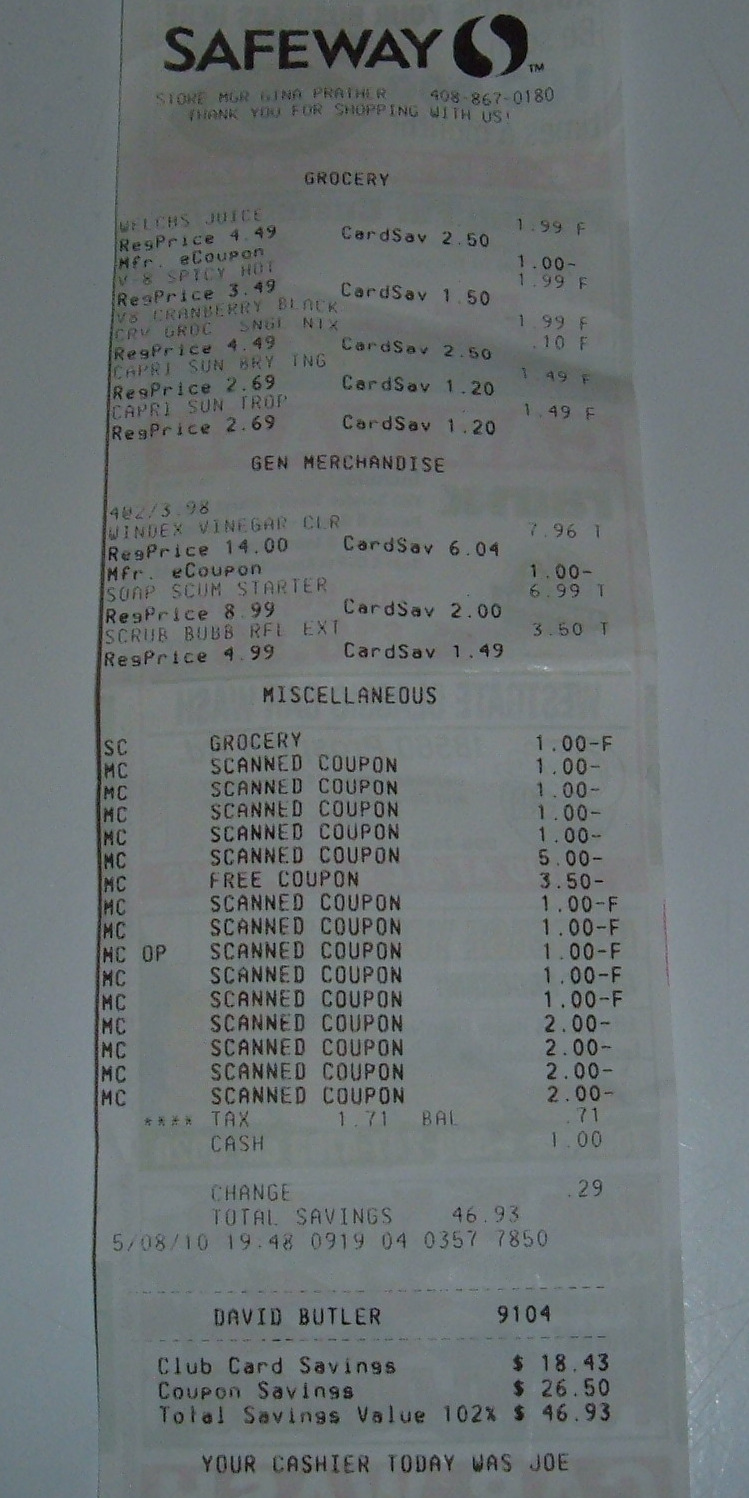 Since I won't be eating the Scrubbing Bubbles or the Windex, those will go to a local food bank that also gives out cleaning supplies like that. This is what I ended up with in drinks for my $0.71: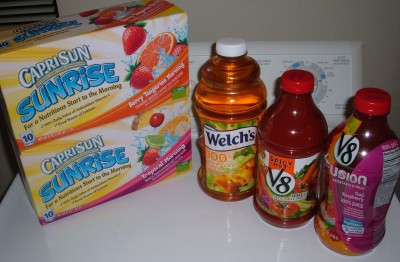 The CapriSun Sunrise juice is not very healthy since it has a lot of sugar (only 10% fruit juice), so I'm not sure if I will use those or not at this point (any good ideas out there?). I will use the others and already used the V8 Spicy into last night's dinner. These are the meals that I had:
Breakfast
Breakfast was the usual. I had a bag of oatmeal in the morning to take with my antibiotics and then a bowl of Corn Flakes a couple of hours later topped with half an apple: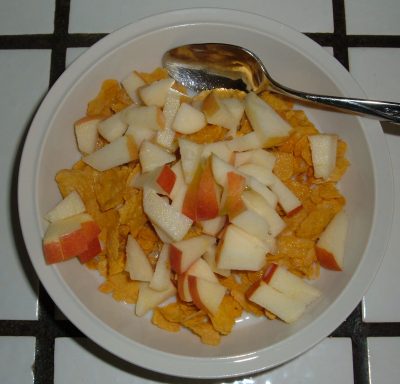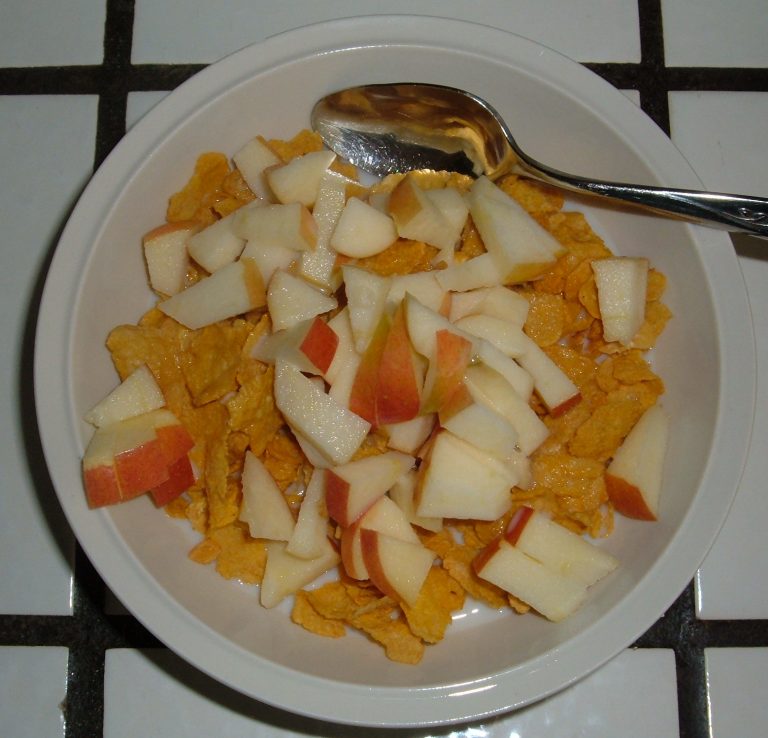 Lunch
I also had my usual peanut butter and banana wrapped in a whole wheat tortilla for lunch. I added some of the steamed carrots that I had from the night before on the side. I also took a serving of the cream cheese minis and mixed it with a spoonful of salsa as a dip for the Wheat Thins (it actually tasted pretty good):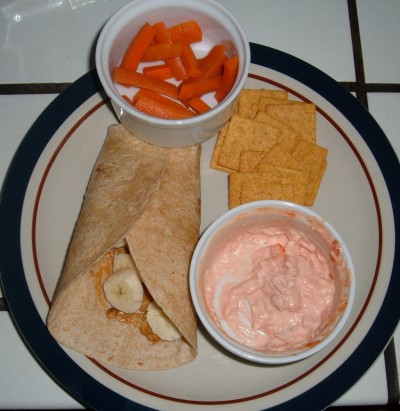 Dinner
Since I had used up all my rice, I went ahead and cooked another cup of it. This time, instead of just cooking it in water, I cooked it in 1 cup of water and 1 cup of the spicy V8 juice I had purchased. This made it kind of like Spanish rice and brought some needed flavor to the rice (at least for me). When done, I place it with some of the black beans I still had, a spoonful of salsa and sour cream into a whole wheat tortilla. I also ate the rest of the steam carrots I had: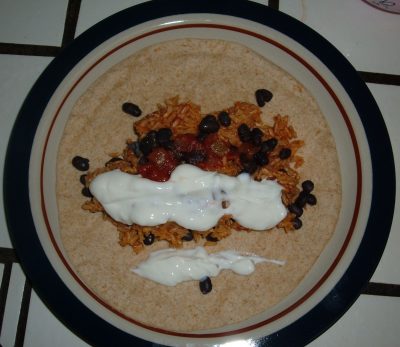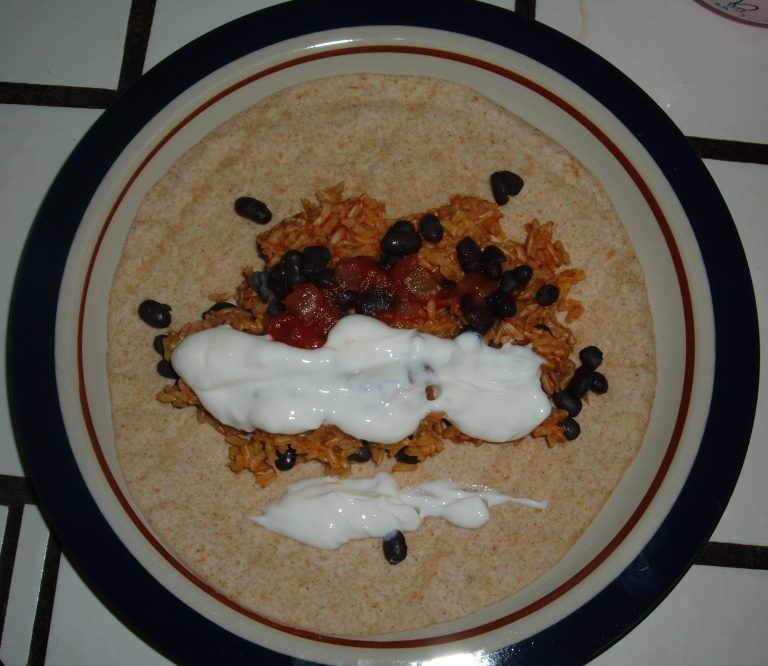 All and all, still doing well and keeping my fingers crossed that this next week brings with it some more great deals.
This is the current list of what I have purchased:
Money Spent $10.42
Money left to spend: 20.58
Retail Value of everything bought: $310.88
1 bottle Welch's grape & peach 100% juice
1 bottle V8 Fusion fruit/vegetable drink
1 bottle V8 spicy vegetable drink
2 boxes of Caprisun fruit drinks (10 packs)
1 jar of salsa
1 bag of black beans
1 half gallon of milk
4 boxes of Corn Flakes
1 dozen eggs
2 avocados
5 bananas
2 boxes of Quaker Instant oatmeal
14 packs of Philadelphia Cream Cheese Minis
1 package of Knudsen Light sour cream
10 apples
2 lbs of carrots
4 boxes (small) of Wheat Thins
1 jar of Skippy All Natural peanut butter
2 cans of pork and beans
1 bag of long grain brown rice
2 packages of Mission 100% whole wheat tortillas (10 counts each)
Donated Food to Food Bank that was purchased with my $1 a day
4 bottles Windex multi-surface cleaner
1 can of Pork & Beans
5 boxes of cereal
50 packs of Philadelphia Cream Cheese Minis
4 boxes (small) of Wheat Thins
2 Scrubbing Bubbles Extend-A-Clean bathroom cleaner
2 Scrubbing Bubbles Extend-A-Clean bathroom cleaner refill
************************
The Beginning:::
Day 9: Eating Breakdown
************************
Rebate Fanatic. Saving you money every time you shop online!
Sign Up and Start Saving Today