The house sitting gig is coming to an end in a few days. Even though I have a pretty big cushion with my spending and would like to do another major grocery shopping run, I have been resisting. Moving the food from place to place is a real pain and I would like to avoid as much of that hassle as possible. It will also give me a chance to use up some of the stuff that I do have so that I have to transport even less. Constantly moving from place to place really is not conductive for this type of challenge.
Plum Smoothie
I did need to get some more plums since I had run out, so I picked up a few on my morning walk with Lila: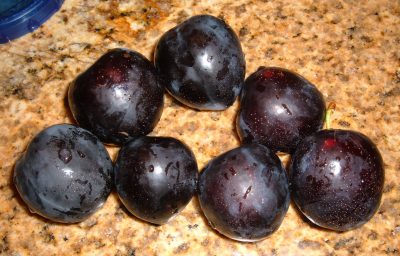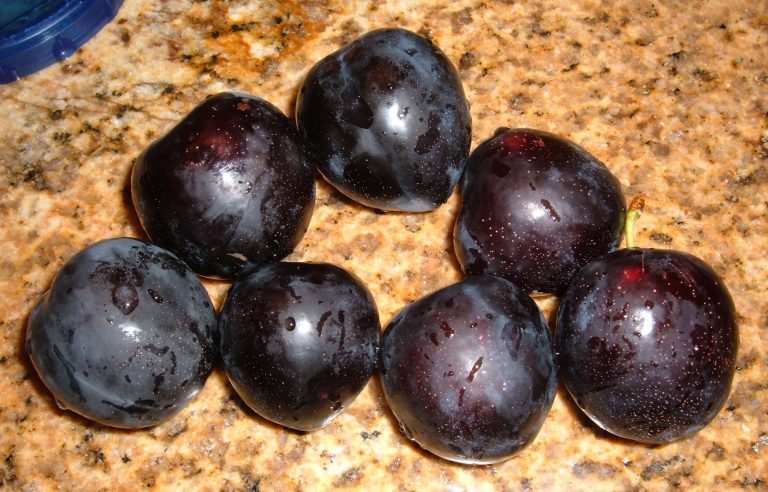 These ended up making a wonderful plum smoothie as they were perfectly ripe: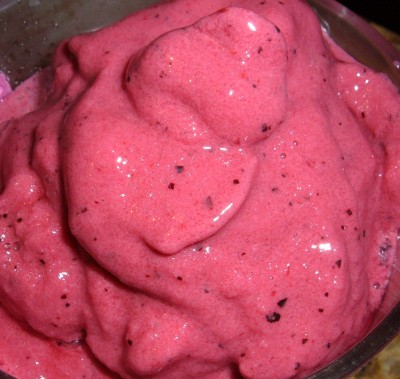 Cheese & Tomato Omelet
With all the cheese I now have, it was time to make an omelet. Unfortunately, the baggie omelet that was so much fun to make was deemed "toxic" by my sister so I am no longer allowed to make omelets that way. With my sad first attempt at flipping omelets, there were a lot of reader suggestions on how I could do it better. I began reading through them in hopes of finding an easy way to create a nice omelet despite my lack of flipping skills.
I decided to try the Julia Child method of making omelets (mine including cheese, tomato, bacon and chicken):
Of course, I was my typical lazy self and decided to do it from what I remembered when I had seen the video a couple of weeks ago instead of watching it again. That ensured that I forgot the critical step of having the pan hot and ready to go when placing in the omelet. Instead, my pan was still warming up when the omelet mixture hit the pan: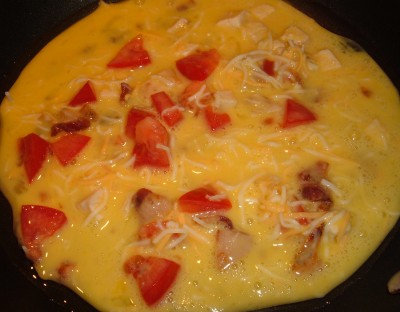 While it eventually heated and I cooked the omelet, the resulting flip out of the pan didn't go so well: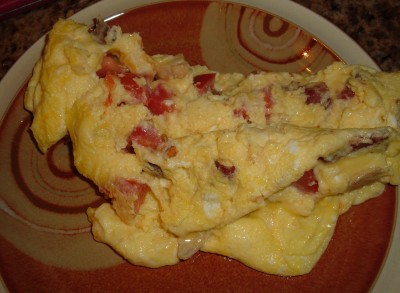 While it didn't come out looking good, it tasted wonderful (maybe could have used another slice of bacon). Any other suggestions on flipping omelets?
Cream Cheese Sandwich
I went for a cream cheese tomato celery sandwich with celery & peanut butter on the side to use up the rest of the celery I had and try to make a small dent into all the cream cheese I still have.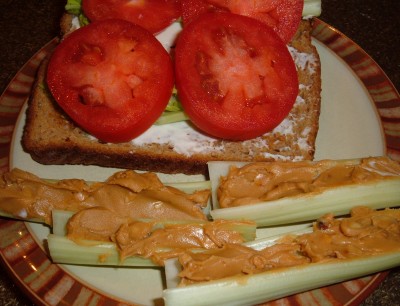 Veggie Bacon Chicken Rice Medley
Still attempting to use up what I already had on hand, I cooked up the rest of the bacon I had (4 strips), then fried veggies (onion, red pepper, green beans and garlic) in the oil.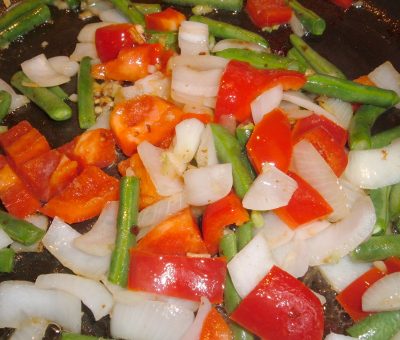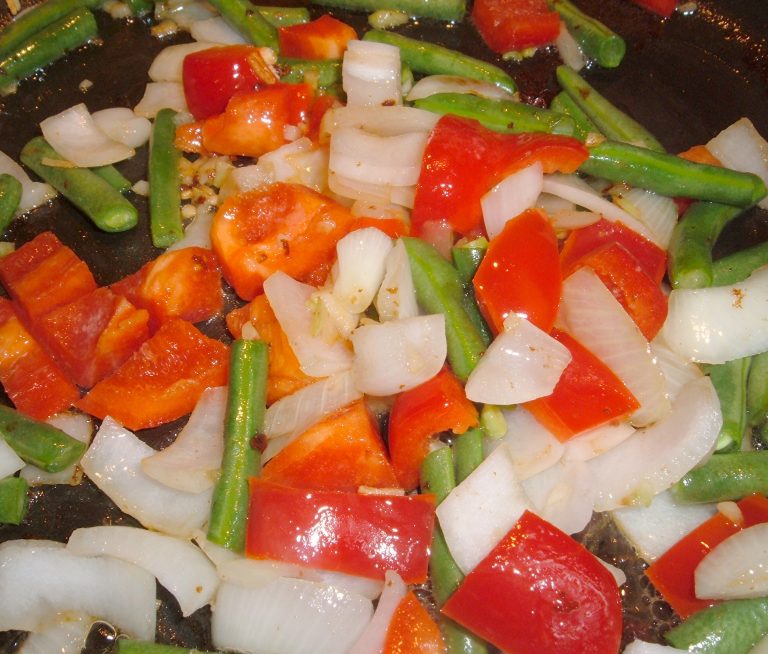 Once done, I added a small amount of chicken breast and one strip of bacon: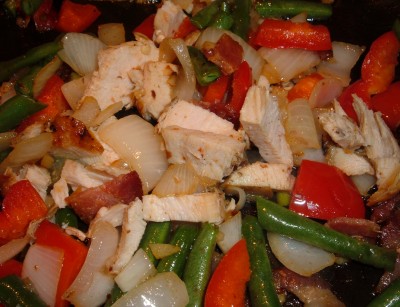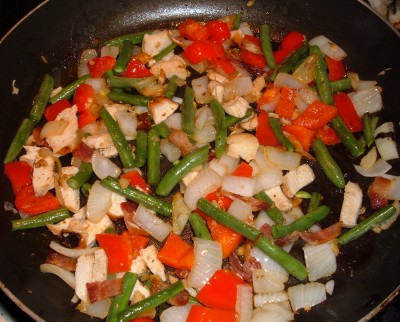 I then added the leftover rice I still had: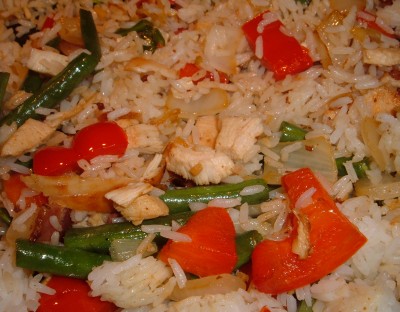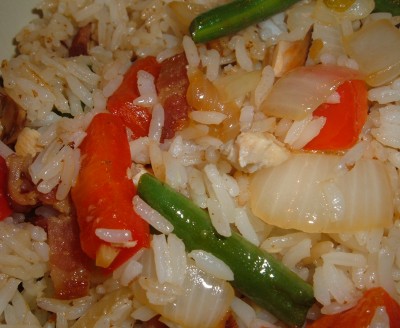 I had assumed that cooking the veggies and rice in the bacon oil would give it a strong bacon flavor, but was a bit surprised that the taste wasn't nearly as strong as I had expected. I guess because I had only cooked up 4 pieces and then only added one may have been the issue (Note to self: always opt for abundance when it comes to bacon). Still, it was a tasty meal and one I would like to try again with adjustments.
This is the current list of food I still have
This is the current list of what I have purchased:
Goal: 100 days eating on $1 a day
Current Money Spent: $53.67
Money Left to Spend: $46.33 ($6.17 must be spent at CVS, $1.50 must be spent at Safeway)
Retail Value of Everything Purchased: $1424.08
************************

The Beginning ::: Day 87: Roasted Stuffed Green Peppers

************************
Rebate Fanatic. Saving you money every time you shop online!
Sign Up and Start Saving Today