It was a rough couponing day. Sometimes no matter how well you think you have things figured out, they just don't work like you expect them to work. That is exactly what happened and it cost me more than I expected, and my lack of preparation in foreseeing the possible issue made it so that I won't be able to remedy the mistake. It isn't the end of the world, but money that could have gone toward some of the essentials that people have been suggesting instead went toward some stuff that I really didn't need which hurts. It will also mean that I will need to be a bit more careful with what I do have to make sure that I don't needlessly waste any more money.
***************************************
This is part of a month long challenge to eat well while spending an average of only $1 a day on food. You can find the beginning and the rules of this challenge here
***************************************
Safeway currently has a buy 8 products, get $4 off campaign (essentially $0.50 off each product) going on for two weeks with over 3000 products participating. I had been looking through them and matching up the deals and I thought I had put together a pretty good scenario. This is what was supposed to happen:
Buy 1 Honey Nut Cheerios ($1.99 when 8 participating products purchased)
** I had $1 off 1 coupon that I found left on the shelf in the store a few weeks ago (so not sure where it came from), but knew it would make for a good deal down the road
** I had a $0.55 off 1 eCoupon from ShortCuts
Final Price: $0.49
Buy 1 Nature Valley Nut Cluster ($1.99 when 8 participating products purchased)
** I had $1 off 1 online coupon from Coupons.com
** I had a $1.00 off 1 eCoupon from CellFire
Final Price: Free
Buy 1 Hamburger Helper ($1.00 when 8 participating products purchased):
** I had a $1 off 1 coupon from Que Rica Vida coupon booklet (Sign up here for future coupons)
Final Price: Free
Buy 1 Cheerios and 1 Trix cereal ($2.98 when 8 participating products purchased):
** I had $1 off 2 online coupon from Coupons.com for General Mills cereal (or from Shrektacular coupon booklet)
** I had a $0.55 off 1 Trix eCoupon from CellFire
** I had a $0.55 off 1 Trix eCoupon from ShortCuts
** I had a $0.55 off 1 Cheerios eCoupon from CellFire
Final Price: $0.33
Buy 4 Kraft Salad Dressing ($7.96 [$1.99 each] when 8 participating products purchased):
** I had 4 $0.55 off 1 Kraft Dressing from 5/2 SmartSource Sunday coupon insert
** I had 2 $1 off produce when you buy 2 Kraft Dressings coupons found on a tearpad in the produce section
** There is a current Catalina Coupon for $3 off your next purchase when you buy 4 Kraft Dressings
Final Price: $2.76 (when catalina coupon counted) + $2 off produce
Buy 2 Padrinos Tortila Chips: ($3.98 club price – not participating in the promo)
** I had $1 off 1 peelie coupon found on chips
** I had $1.5 off produce when you buy 2 Padrinos tortilla chips coupons found on a tearpad below the chips
Final Price: $1.98 + $1.50 off produce
The way I had it envisioned it was that I would get all of the above and $3.50 worth of produce for $7.51 and get $3 catalina coupon back. Unfortunately, the register wouldn't accept the two produce coupons and the manager refused to override the register. I should have just not purchased the Kraft Dressing and Padrinos tortilla chips as their real worth was the free produce I was going to get, but I hadn't thought through what would happen if they were not accepted (a similar deal had gone through at the same store before) and I ended up getting everything. The problem was that I paid for the unanticipated overage with other catalina coupons I had so that I can't take them back now for a refund (I suppose I could take back and trade them for stuff of the same amount, but think I will just chalk this up as a lesson of being more prepared of possible issues and what I want to do if they happen).
Instead of using $7 in catalina coupons I already had to cover the expected cost and getting $3 catalina coupon back, I ended up using $10 in catalina coupons and only getting $2 back. That $4 difference may not seem like a lot, but that is 4 days worth of food that I blundered away. With that in mind, the $0.58 I paid is a bit deceiving…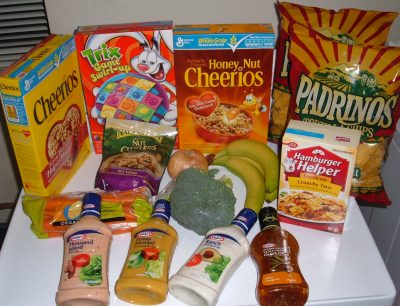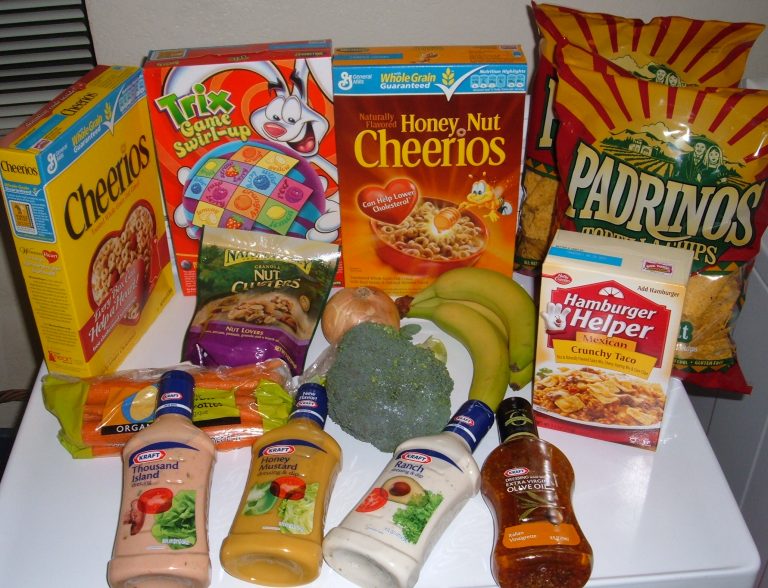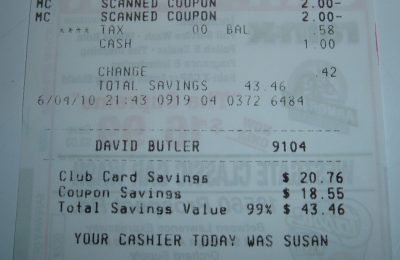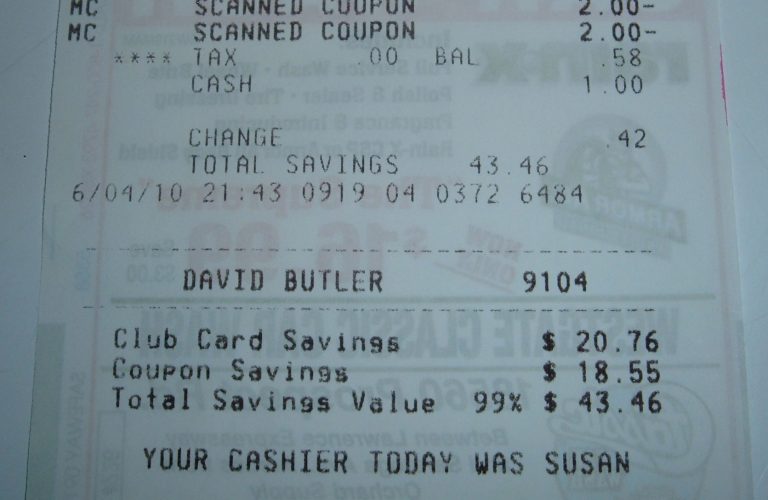 This included all the food mentioned above and 3 bananas, 1 onion, 1 broccoli crown and 1 lb of carrots. The only positive of the coupon blunder was that the Kraft dressing put me over $30 purchased in Kraft food making me eligible for a $10 rebate which will definitely come in handy when it eventually arrives: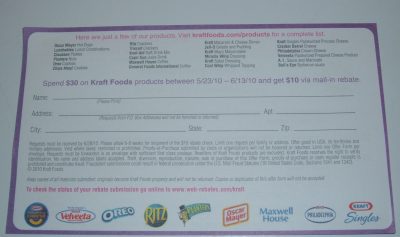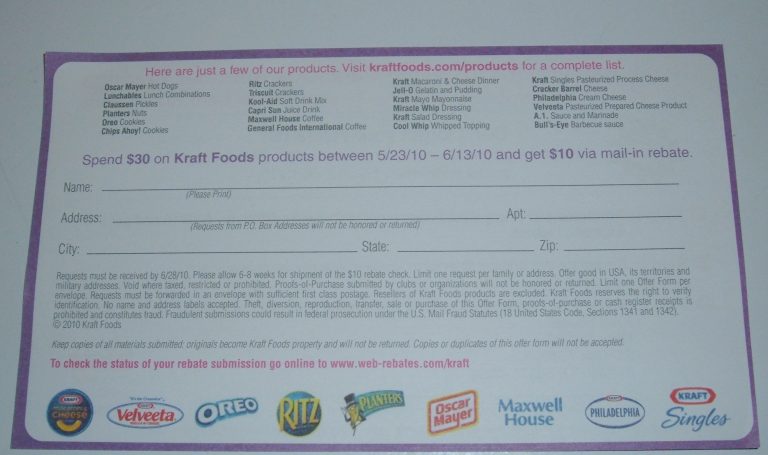 Breakfast
I should have learned by now that on travel days, my meals are going to suffer unless I plan ahead. I had batter left over from the banana pancakes I had made and decided to use that up in the morning. There were a lot of excellent suggestions on how I can make them a bit sweeter, but didn't have all the ingredients I needed (although I plan to try them during this challenge), so I decided to improvise by stirring some cream cheese into them. They looked fine (sorry, I accidentally deleted the photo), but they didn't taste nearly as good as I hoped. The sweetness I hoped for was still missing and it was a bit richer than I anticipated. I think they would be good, but something was definitely missing and I have no idea what that was? A bit of sugar?
Lunch
I need to eat the Deli Creation packages I bought for free before they go bad, so I am concentrating on eating those now. I took the the one with the deli style chicken that was supposed to go on crackers and made it into a sandwich on whole wheat toast adding a bit of the Dijon potato salad dressing, lettuce and half a tomato: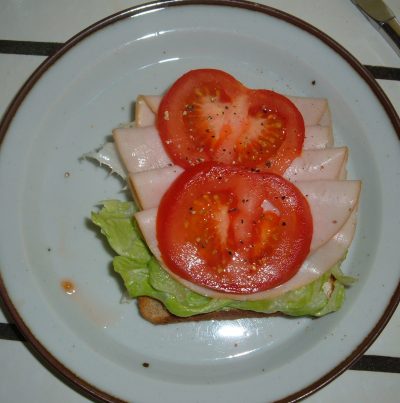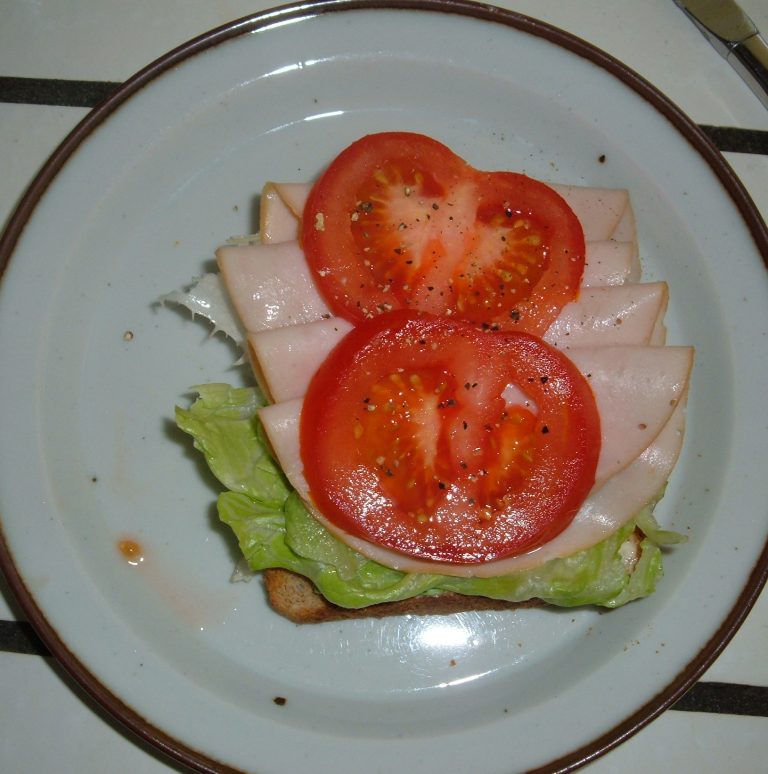 I then just had cream cheese on the crackers and I did get a small of piece of chocolate as well: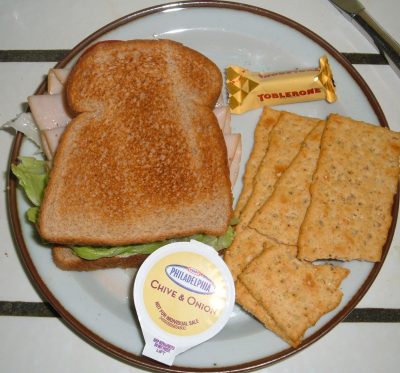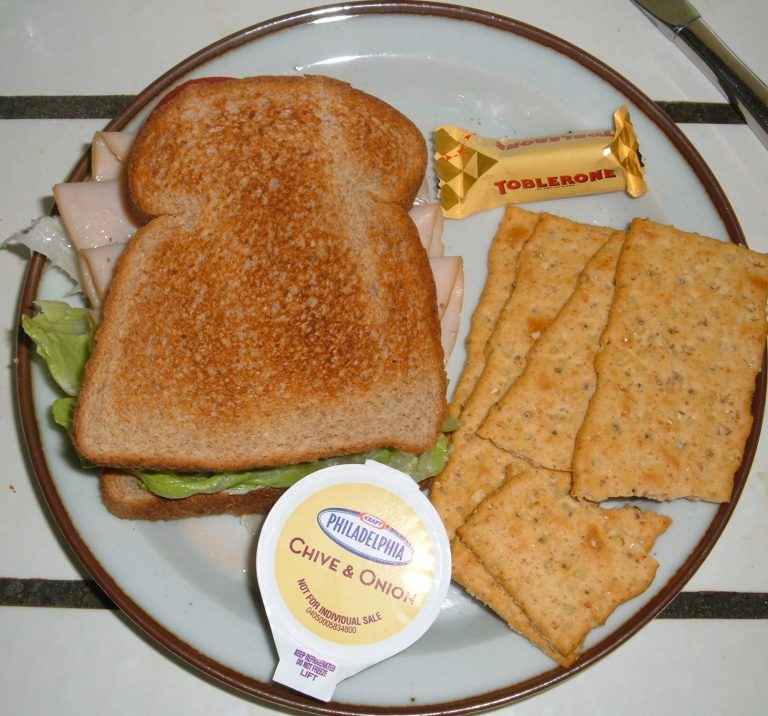 Dinner
I didn't have a proper dinner. I had a bunch of errands to run plus do the grocery shopping so that I was running back and forth for the rest of the evening. I ended up having a couple of peanut butter sandwiches, some of the Wheat Thins toasted chips and a CapriSun drink that I ate when I had a few minutes to spare before going off to do something else.
What I think I need to do is make a few prepared meals that I can freeze so that I can just grab and reheat them for a dinner when things go crazy like today. Of course, that requires that I can actually prepare something in quantity that is worth eating later on. I'm just hoping that tomorrow is a better day in regard to food than it was today…
This is the current list of what I have purchased:
Money Spent $32.64
Money left to spend: $28.36 ($2 must be spent at CVS)
Retail Value of everything bought: $720.83
************************

The Beginning ::: Day 36: Free Beer

************************
Rebate Fanatic. Saving you money every time you shop online!
Sign Up and Start Saving Today