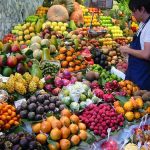 While fast food and restaurant-grade food is yummy, we need to eat a nutritious diet. Apart of that diet, includes high quality, nutritious, and fresh produce. I know you may think, "but healthy cost more," but that's not always the case. There are many ways to spend less money, reduce our grocery costs, and reduce wasteful spending. Aside from shopping at stores with great prices, we can select high-quality fruit in the market. To do so, you must learn how to tell if it is ripe and how to keep it fresh at home. Follow our guide to buying fresh fruits to answer these questions.

Rules to Buying Fresh Fruits
To start, you must buy fruit that is in season where you live. Produce can be marked "in season" when it's imported from another country or location where it is in season, but that doesn't mean it will be ripe and flavorful by the time it arrives in your home. If you are picking out fruit, be sure to take note of the flesh color. Ripe bananas and avocados often get a brown hue to them when they are ripe and bright green when they are not. Check the feel of the fruit to see if it is hard or soft. Soft skin can be a sign of ripeness. You can also knock on some fruit and judge ripeness by the sound it makes.
Tips for Your Fruit After You Arrive Home
Fruit won't ripen in the refrigerator, so make sure it is at its peak before exposing it to cool temperatures.
While refrigeration will slow the decay process, it can also alter the texture of the fruit. Fleshy fruits like peaches can become mealy, while crispy fruits like apples do well in the refrigerator. If you aren't sure, check our storage guides below.
Never seal fruits and vegetables in an air tight bag. Produce needs to "breathe." Airtight containers speed up the decaying process.
Some fruits emit ethylene, a natural gas that speeds up ripening. Other fruits and vegetables may be extremely sensitive to ethylene and will decay within days if stored together with ethylene-producing fruits. Check the guides below to see which fruits and vegetables should be stored separately from each other.
The following pages provide specific information for buying and storing fresh fruits. These also provide specific information on:
When diffrent fruits are in season
What qualities, colors, and aromas to look for
What the major differences are between regular and organic produce
Pesticide contamination concerns
How to store
How to freeze
Basic shelf lives

Apples
Apricots
Asian Pear
Avocados
Bananas and Plantains
Blackberries and Boysenberries
Black Raspberries
Blueberries
Cantaloupe
Cherimoya
Cherries
Coconut
Cranberries
Crenshaw melon
Currants
Dates
Figs
Gooseberries
Grapefruit
Grapes and Raisins
Honeydew Melons
Kiwifruit
Lemons and Limes
Loquats
Mangoes
Melons
Nectarines
Olives
Oranges
Papayas
Peaches
Pears
Persimmons
Pineapple
Plums
Pomegranate
Quinces
Raspberries
Strawberries
Watermelons

Photo Source: Kevin Coles