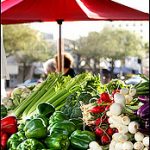 If you love to wander through farmers markets, or even the fresh produce section of your favorite store, looking for fresh, tender, flavorful vegetables…trying new and unusual produce…or just buying produce in season…and are sorely disappointed when you bring your finds to the dinner table, help has arrived. Whether you are looking to buy, keep for a few days, or save the flavors to last throughout the year, these guides can help you make informed buying decisions. And that could mean better produce, at a better price, with less waste.
The following pages provide specific information for buying and storing fresh vegetables and extending the shelf lives by freezing, canning, or drying, including
when to buy/ when it's in season
what qualities, colors, and aromas to look for
what the major difference is in organic growing
pesticide contamination concerns
how to store
how to freeze
basic shelf lives
Artichokes
Arugula
Asparagus
Beans, dry
Beans, green beans, wax beans, and snap beans
Beans, lima, butter, and pinto beans
Beets
Bell Peppers
Broccoli
Brussels Sprouts
Butter Beans
Cabbage, Red Cabbage, Chinese Cabbage
Carrots
Cauliflower
Celery
Celery Root or Celeriac
Chicory, Endive, Radicchio, Escarole, and Frisee
Chile Peppers
Collard Greens
Corn
Cucumbers
Eggplant
Endive, Belgian
Fennel
Garlic
Green Beans
Kale
Kohlrabi
Leeks
Lettuces
Lima Beans
Mushrooms
Okra
Onions
Parsnips
Peas
Peppers, Bell and Sweet
Peppers, Hot
Potatoes, Sweet
Potatoes, White
Pumpkin
Radishes
Rhubarb
Rutabaga
Snap Beans
Spinach
Squash, summer (soft-skinned, including Italian marrow, yellow straightneck, pattypan, zucchini)
Squash, winter (hard-skinned, such as acorn, banana, butternut, Des Moines, green and golden delicious, green and blue Hubbard)
Swiss Chard
Tomatillos
Tomatoes
Turnips
Wax beans
Yams
Zucchini
Photo Source: imageMD
Return to Buying and Storage Guides Main Page
Rebate Fanatic. Saving you money every time you shop online!
Sign Up and Start Saving Today